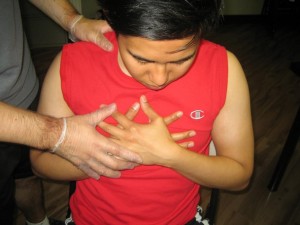 Seattle CPR is home to eight CPR training programs, all taught by CPR rescuers who are certified themselves. Our programs last between 4 and 16 hours, from single to two-day sessions. We have basic and advanced programs available, depending on what kind of certification you need. Out of eight programs, three are basic CPR, two are advanced CPR, and three are re-certification classes.
Enrollment is easy, we offer three different ways to enroll for a program. The most popular among our younger trainees is online application, coursed through the Seattle CPR website. We also allow our trainees to send in their applications through e-mail or in person. If you have any inquiries, you may call us during business hours or ask a question through e-mail.
Cardiovascular disease in Americans
Each year, more than half a million American men and women die from cardiovascular problems. Cardiac arrest alone kills almost 200,000 people in the US annually. While the these statistics have actually decreased by almost 30 percent between 2000 and 2010, the fact still remains that heart conditions are the number one cause of mortality not only in the US but all over the world.
But what causes heart disease in the first place?
Heart disease is mainly a lifestyle-related condition, caused by unhealthy lifestyle choices. a person's diet and exercise habits greatly affect the risk of developing a heart condition. A diet that is too high in fat, coupled with a lack of regular exercise, can cause plaque (made up of deposits of fat and inflammatory cells) to deposit in the blood vessels. When these deposits obstruct the blood vessel, it reduces the blood flow that reaches the heart and other parts of the body.
Hypertension is also a complication of heart disease, because obstructions in the vessels raise the pressure that the heart and blood flow need to overcome in order to circulate through the body. If these obstructions are not managed with medication and possibly surgery, it can lead to a heart attack and eventual cardiac arrest.
What can we do if somebody gets a heart attack?
The first step after a person falls unconscious or has signs and symptoms of a heart attack is to assess the situation then call for help. Check for breathing and a pulse, and if the person can be roused or is completely unresponsive. Afterwards, call your local emergency hotline and ask for an ambulance. If the person did not fall or hit or his head or back, you can bring him or her to the emergency room yourself.
If you are a trained CPR rescuer, after calling for help, immediately begin giving chest compressions. The chest should be compressed by at least 2 inches for an adult and 1.5 inches for a child. The rate should be at least 100 a minute, using a ratio of 30 compressions for every two rescue breaths.
At Seattle CPR, you can enroll in any of the following courses:
Basic CPR and AED (public)
Basic CPR and AED C (health care providers)
Basic Life Support for HCPs
Advanced Cardiac Life Support
Pediatric Advanced Life Support