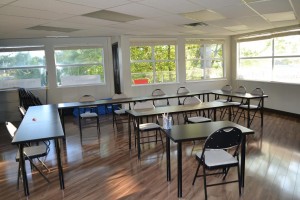 Individuals requiring first aid certification in the workplace in Toronto are likely required to take an Ontario WSIB-approved training class. The largest, most experienced, and lowest priced provider of these courses and many other first aid services in the Toronto Metropolitan area is Toronto First Aid. This provider offers a number of different courses including food safety, workplace hazardous material information systems (WHMIS) training, CPR level "HCP", standard, emergency, and childcare first aid. Participants enrolled in any first aid and/or CPR course will learn the latest rescue methods as provided through the American Heart Association and the International Liaison Committee on Resuscitation (ILCOR) which are the world governing bodies on CPR techniques.  To register for first aid, CPR, AED, food safety or safety course use the contact information posted below or click the link below to be directed to the registration website.
Click Here to View the Toronto First Aid Website.
Toronto First Aid
Contact Details
If you have any questions or queries, you can reach the Toronto First Aid staff with the information below.
Website: http://torontofirstaidcpr.ca
Email: [email protected]
Telephone : 1-888-870-7002
You can complete your enrolment through e-mail, telephone call, or walk-in during business hours in any of the training centers in Toronto.
Who Needs First Aid Training in Toronto?
Many people are required to have some level of first aid, CPR, and/or AED training that does or does not meet Ontario WSIB requirements. The following participants are likely to be required to be certified with one of the courses offered at Toronto First Aid:
Construction Workers
Health Care Professionals
RN Nurses
LPN Nurses
Doctors
Physiotherapists
Massage Therapists
Chiropractors
Caregivers
Security Guards
CBSA Officers
Police Officers
RCMP Officers
Childcare / Daycare Workers
Caregivers
Teachers
Coaches
High School Teachers
Government Employees
Office Workers
Lifeguards
Medical School Students
Adopting Parents
Dentists
Dental Assistants
Pharmacists
To find out what course you need use the contact information posted above.
What Will I Learn in a First Aid Course?
Customers that enroll in an Ontario WSIB-approved first aid class will learn about the following topics:
Cardiopulmonary Resuscitation
Choking Rescues
Automated External Defibrillators
Unconscious Non-Breathing Victims
Staying Safe
Personal Protective Equipment
Legalities with First Aid and CPR
Using Barrier Devices
Circulatory Emergencies (Heart Attacks, Stroke, T.I.A, Shock, Wound Management)
Breathing Emergencies (Allergic Reactions, Asthma, Hyperventilation)
Sudden Medical Emergencies (Seizures, Poisonings)
Muscle, Bone, and Joint Injuries (Broken bones, sprains, strains, Head injuries, Neck injuries, Spinal)
Environmental Emergencies (Hypothermia, Heat Exhaustion, Frost Bite, Heat Stroke)
What Other First Aid Services Are Available?
This provider offers more than just first aid, safety, and food handling courses. Here are some of the other services available with this provider:
Facility Safety and Emergency Response Audits
First Aid Supplies and Restocking
First Aid attendant rentals for workplaces and events
Facilities
Toronto First Aid has several training centers in the Toronto area. The centers are easily accessible by public and private transportation and are within walking distance of restaurants, shops, and free parking.
Did You Know?
Testing for diabetes with a Fasting Blood Sugar (FBS) test
The fasting blood sugar (FBS) test is done after an overnight fast or six hours after the last meal/snack. An FBS result of less than 100 mg/dL is normal, while a result of 100 to 125 mg/dL is considered prediabetes. A result of 126 mg/dL and above on two separate tests is enough to diagnose you with diabetes.
High levels of glucose in the blood – seen from diagnostic bloodwork – mean the body isn't producing enough insulin for the cellular uptake of glucose. As a result, there is constantly a high level of sugar circulating in the body, causing damage to tissue and slowing the healing process of the body. When the body doesn't produce insulin at all, a person is diagnosed with type 1 diabetes (insulin-dependent). If the body produces insulin but it isn't enough or the cells have become resistant to it, a person is diagnosed with type 2 diabetes.