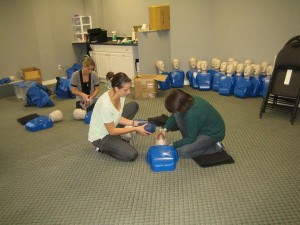 Edmonton First Aid continues to be the leader and premier provider of Alberta OH&S workplace-approved certification since it was established in 2010. It is the biggest and most popular first aid and CPR provider in Edmonton city. Signing up for the training program you want is really easy, just fill out the form at the bottom of this page! You can't get better rates and courses in Alberta than Edmonton First Aid.
Click here for more information.
Register for a Course
After you've chosen your desired course, you can complete your enrolment through the form below. E-mails, telephone calls, and walk-ins during business hours are also highly encouraged by the Edmonton First Aid staff.
Edmonton First Aid is located just south of downtown and Whyte Street in Edmonton. Free parking and plenty of amenities are located nearby.

View Larger Map
Contact Details
If you have questions regarding classes or enrolment, you can reach the Edmonton First Aid website with the details below.
Program Rates
The rates below are inclusive of taxes, certification fees, and training manuals. Aside from the payment during enrolment, trainees have no more additional expenses.
Standard First Aid, CPR, and AED – 132.99
Emergency First Aid, CPR, and AED – 89.99
Standard Childcare First Aid, CPR, and AED – 135.00
CPR level "C" and AED – 73.99
CPR level "HCP" and AED – 73.99
CPR level "A" and AED – 73.99
Trainees who drop out and give 72-hour notices beforehand are entitled to full refunds.
Training Programs in Edmonton First Aid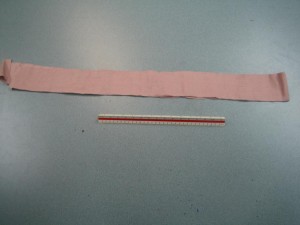 The most popular Alberta OH&S-approved courses are standard, emergency, and childcare first aid.  These courses offer different content to participants and vary by length. The following is a brief explanation of what each course has to offer.
Standard first aid – this is a two-day comprehensive course that includes CPR and AED training. Re-certifications are available for participants with current awards. A re-cert requires 8 hours to complete. Participants enrolled in this course will learn about sudden medical emergencies, circulatory emergencies, breathing emergencies, environmental emergencies, and muscle, bone, and joint injuries.
Emergency first aid – this is a one-day course that is commonly referred to as "basic first aid". Participants will learn about breathing and circulatory emergencies as well as CPR and AED rescue techniques. Re-certifications are not currently available for this course so participants must re-take the course to renew their certification.
Childcare first aid – this is a two-day course that meets Alberta OH&S certification requirements. It is very similar to standard first aid but adds components for childcare workers such as shaken baby syndrome and fevers.
Other Courses that are available with this provider:
WHMIS online training
TDG online training
Food Safety Certification Courses
Enform H2S Alive Courses
Basic Life Support
Babysitting Training
Visit the Edmonton First Aid website to find more information about these courses or to register.
Testimonials
Here's what people are saying about this provider
Everything went smooth and easy. I was a little nervous when I read up on all the content we had to learn but the teacher was great. She made it all easy to understand and has us doing some great activities. This course has made me really prepared for any emergency.

I had a blast. I learned so much. I can manage choking emergencies and know how to do CPR. I'm definitely not scared of AED's anymore.  Great prices and great courses. Thanks Edmonton First Aid!
Take a course today and see what this provider has to offer.
Private Courses
Trainees can opt for private teaching at home or for a work event as well. Edmonton First Aid instructors also offer trainees private training for hourly rates. Send an e-mail or give me a call to inquire about available trainers and schedules.
Certification
Alberta OH&S certificates are awarded after the training program is completed. The certificates must be renewed within three years through refresher programs at Edmonton First Aid. In order to be able to attend re-certification courses, participants must meet several prerequisites.
Did You Know?
Black-eye first aid
With a cold pack or ice wrapped in cloth and a plastic bag, apply slight pressure to the area around the eye (NOT on the eyeball). Apply the ice as soon as possible after the injury to help reduce swelling. Continue using ice or cold packs for the next 24 to 48 hours.
Examine the eye for blood in the sclera (the white portion of the eye). If you find blood, see an eye specialist or an ophthalmologist or head to the emergency room to get checked.
If you do not find any other signs or feel any other symptoms aside from the bruise but experience blurriness or vision problems and pain, seek help from a physician or visit the emergency room.