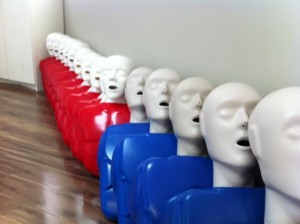 We strongly recommend Red Deer First Aid if you are looking for first aid services such as training, supplies, consulting, or online training. This experienced provider has been offering its services throughout Alberta since 2007. Customers can request first aid attendees for events, hire consultants for audits and emergency response plans, purchase supplies, and register for Alberta Occupational Health and Safety (OH&S) approved courses such as standard, emergency, and childcare first aid. Participants that register for open courses will find that instructors are experienced, knowledgeable and friendly. The training facility is located in the heart of Red Deer, Alberta. Learn to manage emergencies such as choking, poisonings, cardiac arrest, stroke, seizures, broken bones, spinal injuries, severe burns, and internal bleeding by registering for a course today. To find a course schedule or to register for a course use the contact information provided below.
How Do I Register?
You can contact Red Deer First Aid with the following information. The very helpful staff will be sure to answer any of your questions and aid you with any registration.
Staff is available to help with registration from 8 am to 6 pm 7 days per week. Online registration is available on the website 24 hours a day.
What Courses Are Available?
Customers can receive training in the following courses:
OH&S approved standards, childcare and emergency first aid, CPR, and AED
ILCOR and American Heart Association 2012 Consensus Approved CPR and AED "Only"
Food Safety Certification
OH&S approved first aid and/or CPR re-certifications
Basic Life Support (BLS)
Advanced Life Support (ALS)
On-Line WHMIS, MSDS, Fire Safety, and TDG Training
To register for one of the above-mentioned courses use the contact information provided above.
What Other Services Are Available in Red Deer First Aid?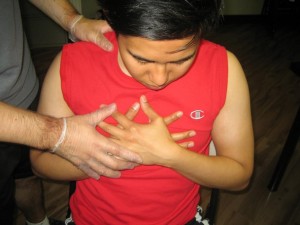 Customers may also receive the following services with this provider:
The first-aid attendant at events and work-sites
Private first aid, CPR, AED, food safety, or safety courses at the Red Deer First Aid training center or at your facility
Purchase or re-stocking of first aid kits and supplies
Consulting, audits, emergency response plan drafting for your business
Private Infant CPR courses for new parents
To inquire, book or order any of the services posted above use the contact information posted above.
Register for a Course in Red Deer Here
Did You Know?
Eye injuries
Eye injuries are common because small dust and dirt particles can get into the eye through the wind. These particles scratch the surface of the eye known as the cornea. This can cause pain, blurring of vision, and tears. Make sure to avoid the following to prevent the worsening of your eye injury:
If something is embedded in your eye, DON'T try to remove it.
DON'T rub your eye.
DON'T touch your eyeball or use anything to it.
DO run clean or sterile water over your eye if dust or dirt caused your abrasion.