Advanced CPR training and HCPs
Getting advanced training in CPR is a requirement that most health care professionals will be familiar with. Health care providers like nursing aids and radiologists are usually required to have basic CPR training, but professionals such as nurses and physicians need to have advanced CPR training. Advanced Cardiac Life Support (ACLS) is one of two advanced courses we offer, the other being Pediatric Advanced Life Support (PALS).
ACLS and PALS follow the same curriculum structure as each other, with lessons varying in terms of victim age group. The ACLS program is for managing adult victims while the PALS program is for managing pediatric victims. The term pediatric is used to describe people younger than 18 years old, but the PALS program mostly focuses on very young children such as infants and toddlers.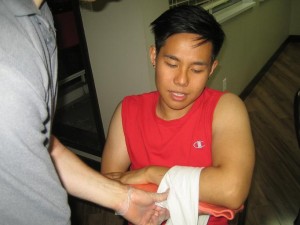 The down-low on cardiac disease
The number one killer of people worldwide is ischemic heart disease. Ischemia is a medical term used to describe tissue that is deprived of oxygen. Without oxygen, the cells cannot function adequately, leading to tissue death. Ischemic heart disease is therefore a disease where the heart tissue is not receiving enough oxygen, causing pain and dysfunction.
In America alone, more than 500,000 men and women die due to cardiac disease. Over 78 million Americans have hypertension, meaning a value higher than a systolic blood pressure of 140 and/or a diastolic blood pressure of 90. These risk factors along with an unhealthy diet and exercise greatly contribute to the development of cardiac disease.
But even with these statistics made public, cardiac disease remains a problem up to today. It then becomes important to be aware of the different risk factors that contribute to it and what you can do if ever cardiac arrest happens.
Studying CPR
The most dangerous complication of cardiac disease is cardiac arrest. This happens when the heart stops beating completely. The only way to restart the heart is through the use of chest compressions. This is the most basic technique used to return the circulation of blood through the body. In advanced management, medications and diagnostics are used adjunct with basic CPR.
We have two kinds of programs available: Basic Life Support and Advanced Life Support.
Basic Life Support
Heartsaver CPR – basic CPR (one-person rescue) for the public
Heartsaver CPR C – basic CPR (one-person rescue) for HCPs
Basic Life Support for HCPs – basic CPR (one and two-person rescue)
Advanced Life Support
Advanced Cardiac Life Support (ACLS)– advanced management of adult victims
Pediatric Advanced Life Support (PALS) – advanced management of pediatric victims
Certificates from any of the programs above are valid for 24 months. They can be renewed through a re-certification class, available for Basic Life Support for HCPs, ACLS, and PALS. However, in the case that your certificate does expire, you can no longer apply for re-certification; you need to take the training program again.