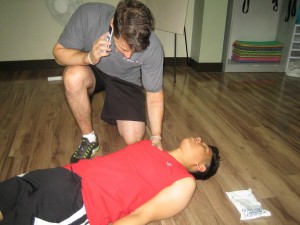 CPR training is one of the most important things a person learns how to do. There is a misconception that only people who have medical careers should know how to give CPR. However, with about 300,000 people experiencing out-hospital-cardiac arrests and the first responders being bystanders, it is extremely beneficial to know how to give compressions and ventilation. Defibrillation is a skill we include in our training programs, for more advanced trainees who want to learn how to operate an AED.
American CPR training
Basic Life Support courses
Heartsaver CPR – 4 hours; one-person rescue for the public
Heartsaver CPR C – 4.5 hours; one-person rescue
Basic Life Support for Health Care Providers – 4.5 hours; one and two-person rescue
Advanced Life Support courses
Advanced Cardiac Life Support – 16 hours over 2 days; medical management of adults
Pediatric Advanced Life Support – 14 hours over 2 days; medical management of children
There are no requirements if you want to enroll in a basic course. However, there are two requirements if you want to enroll in either of the ALS courses: (1) pre-test and (2) certification for Basic Life Support for Health Care Providers training.
Our training locations through out the US
California – Los Angeles CPR, San Francisco CPR
Hawaii – Honolulu CPR
Nevada – Las Vegas CPR
Oregon – Portland CPR
Washington – Seattle CPR
All of our locations offer the same set of training programs at the same rates. The program schedules may vary per location, but the quality never diminishes. You can enroll in any of our programs listed above through each location's webpage, on the online form.
Cardiac arrest and its statistics
According to the Centers for Disease Control and Prevention (CDC), out of the 300,000 people who get heart attacks out of the hospital, about 92 percent die. Out-of-hospital cardiac arrests is "the cessation of of cardiac mechanical activity", or in simple the terms, when the heart stops beating completely. CPR is the only way to get the heart beating again, through the use of compressions, ventilation, and defibrillation. In advanced medical management, health care providers can use medication and equipment to help the process.
At our providers, you will learn all these skills depending on the certification program you decide to take. Certificates are valid for two years (24 months) before you need to renew them. We also offer re-certification for trainees with nearly expired credentials. Enroll today!